Difference Between Windows 11 and Windows 10
Windows 11 represents the latest significant iteration in the Windows series, officially released by Microsoft on October 5, 2021. Similar to how Windows 10 was provided as a complimentary upgrade from Windows 8.1 and Windows 7, Windows 11 is also offered as a free upgrade from Windows 10. Below are the key differentiators between Windows 11 and Windows 10:
User Interface
Windows 11 comes with a redesigned and modernized user interface compared to Windows 10. It features a centered Start menu, rounded corners, and updated taskbar icons, giving it a more polished and fresh appearance. The overall design of Windows 11 is more streamlined and visually appealing.
System Requirements
Windows 11 has higher minimum system requirements compared to Windows 10. It requires a compatible 64-bit processor, 4 GB of RAM, and 64 GB of storage. Additionally, it needs Secure Boot and TPM 2.0 support, which may not be available on older devices.
Integration with Microsoft Teams
Windows 11 has deep integration with Microsoft Teams, a communication and collaboration platform. It has a dedicated Teams app in the taskbar, making it easier for users to access Teams for video calls and messaging.
Gaming Features
Windows 11 introduces several gaming-focused features, including DirectStorage support, which allows for faster game loading times, and Auto HDR, which improves the visual quality of games on compatible hardware. These features enhance the gaming experience on Windows 11 compared to Windows 10.
Virtual Desktops and Snap Layouts
Windows 11 offers enhanced virtual desktop management and Snap Layouts, allowing users to organize and manage multiple open windows more efficiently.
Android App Integration
One of the significant additions in Windows 11 is the ability to run Android apps natively through the Microsoft Store. This feature enables users to access and use Android apps on their Windows devices seamlessly.
Widgets
Windows 11 introduces a new Widgets feature, which provides personalized news, weather, calendar events, and other information directly on the desktop, accessible through a slide-out panel.
Blue Screen of Death (BSOD):
A green screen of death that replaces the teal one, prior to 10 this was the infamous "BSOD".
Win11 Vs. Win10: What's new and improved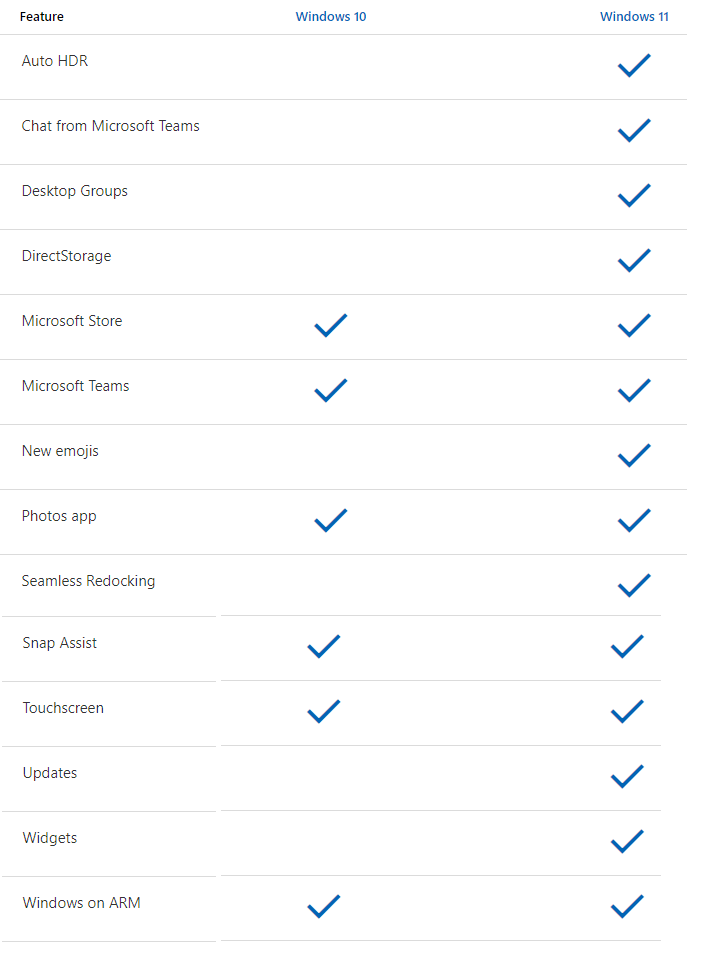 Conclusion
These are some of the primary differences between Windows 11 and Windows 10. Windows 11 offers several new features, visual improvements, and performance enhancements, making it an enticing upgrade for users who meet the minimum hardware requirements.