Difference Between Windows 11 and Windows 10
Windows 11 is the next major version of the Windows series that Microsoft launched on October 5, 2021. Just like Windows 10 was a free upgrade from Windows 8.1 and Windows 7, Windows 11 is a free upgrade from Windows 10. Here are the biggest changes between Windows 11 and Windows 10:
Appearance and Interface:
Windows 11 brings a brand new, more Mac-like interface to the Operating System. The iconic Start Menu also has been moved to the center of the screen along with the Taskbar. This updated Start menu is a simplified version of what currently exists in Windows 10 , without Live Tiles. It includes pinned apps, recent files, and the ability to quickly shut down or restart Windows 11 devices. It's really a lot more simplified than what exists in Windows 10 today. Also, the new OS features a clean design with rounded corners and pastel shades.
Windows 11 Logo and Startup Sound:
The Windows logo now looks flat like the Microsoft logo, a shift from the 3D design on Windows 10. The new Windows 11 startup sound that's also a refresh from what you are hearing for a while in Windows 10. In fact, many Windows 10 users might have disabled the startup sound already. Maybe, it's time to enable it again.
Hardware Requirements:
The major difference lies in the basic system requirements for Windows 11 . The minimal RAM and storage required to run Windows 11 is roughly twice that of Windows 10. Additionally, the DirectX and display resolution has also been increased.
Android App Integration:
On Windows 10, your Phone app can already pump Android apps from your smartphone. But Windows 11 is taking the experience to a new level. Windows Subsystem for Android enables your Windows 11 device to run Android applications that are available in the Amazon Appstore.
Trusted Module Platform (TPM):
Windows 11 would run on devices with Trusted Module Platform 2.0 , while Windows 10 supported devices with TPM 1.2 and above. TPM is a chip that enables your system to manage encryption keys, thus making your machine a lot safer online.
Removed unessential features from Windows 10:
Some of the important Windows 10 features that are not going to be in Windows 11 like : Cortana, Internet Explorer , Snipping Tool, OneNote, Paint 3D etc.
Gaming Improved Xbox Tech:
Windows 11 will get certain features found in Xbox consoles , like Auto HDR and DirectStorage, to improve gaming on your Windows PC. This marks another move toward integrating PCs and Xbox consoles for Microsoft.
High Dynamic Range (HDR):
With HDR in Windows 11, you get the most of out your high dynamic range (HDR) TV or PC display. Previously on Windows 10, turning on high dynamic range (HDR) in the OS rather than allowing it to appear per app resulted in a dim display with low brightness and faded colors.
Virtual Desktops:
You'll find it easier to create and toggle between different virtual desktops in Windows 11 compared to Windows 10. Windows 11 will let you set up virtual desktops in a way that's more similar to Macs, toggling between multiple desktops at once for personal, work, school or gaming use.
Blue Screen of Death (BSOD):
A green screen of death that replaces the teal one, prior to 10 this was the infamous "BSOD".
Win11 Vs. Win10: What's new and improved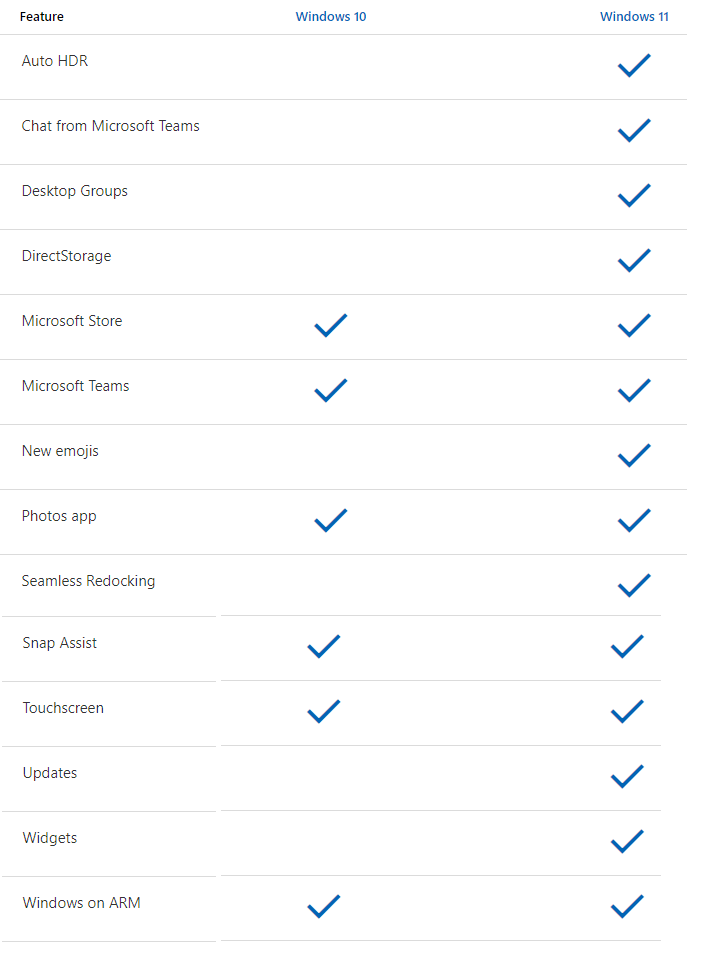 NEXT.....
Upgrade Windows 10 to Windows 11 for Free