This PC doesn't currently meet all the system requirements
Installing Windows 11 on a device that does not meet Windows 11 minimum system requirements is not recommended. If you choose to install Windows 11 on ineligible hardware, you should be comfortable assuming the risk of running into compatibility issues.
You can find Windows 11's hardware requirements here . If any of those requirements are not fulfil, you'll not be able to install Windows 11 on your PC. It lets you know in advance whether your computer is compatible. The problem is, if it returns "This PC can't run Windows 11" Or "This PC doesn't currently meet all the system requirements for Windows 11" you can't upgrade or install Windows 11 on your PC.

If you are unsure, your PC meets the Windows 11 minimum system requirements and have Windows 10 already installed, you can download the PC Health Check app , which will assess eligibility and identify components of your PC that doesn't meet the minimum requirements.
Following are the possible reasons for Windows 11 incompatibility issues:
Secure Boot
TPM 2.0
What is secure Boot?
Secure boot is a security measure developed by members of the PC industry to help make sure that a device boots using only software that is trusted by the Original Equipment Manufacturer (OEM).
Secure boot detects tampering with boot loaders, key operating system files, and unauthorized option ROMs by validating their digital signatures. When enabled and fully configured, Secure Boot helps a computer resist attacks and infection from malware. Detections are blocked from running before they can attack or infect the system.
How to check the status of Secure Boot on your computer?
Press Win + R to open Run window, enter "msinfo32" in the textbox and hit Enter.
Then you will get System Information window and you can find "Secure Boot State" under System Summary.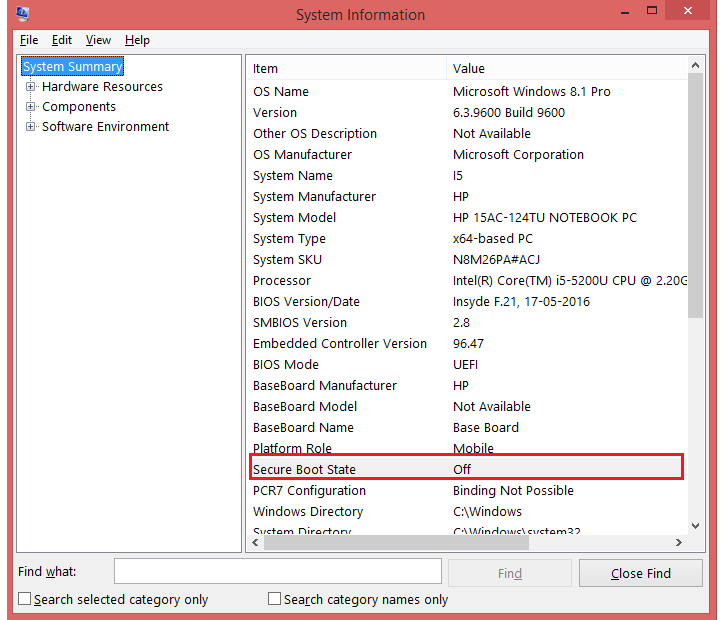 If Secure Boot State is "On", it is enabled already; If Secure Boot State is "Off", it's disabled or not available.
What is Trusted Platform Module (TPM)?
A Trusted Platform Module is a microchip designed to provide basic security-related functions , primarily involving encryption keys. It is an endpoint device that stores RSA encryption keys specific to the host system for hardware authentication. Each TPM chip contains an RSA key pair called the Endorsement Key (EK). The pair is maintained inside the chip and cannot be accessed by software. The TPM is usually installed on the motherboard of a computer or laptop, and communicates with the rest of the system using a hardware bus.
TPM is a total system security perspective, and that's something Microsoft feels it needs to enforce with Windows 11 . By making TPM 2.0 a requirement, Microsoft is hoping to make the life of hackers just that little bit harder.
How to check the TPM information on your computer?
press Win + R, type "tpm.msc" in the textox and press Enter.
If TPM is in use and the version is 2.0, then it is compatible for Windows 11.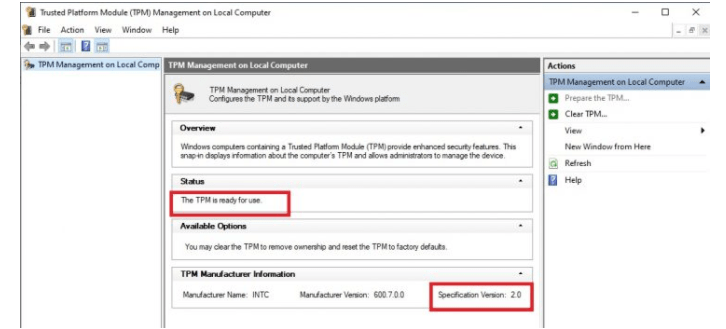 If the TPM version is lower than 2.0, or it says "Compatible TPM cannot be found", then you are not allowed to upgraded to Windows 11.

Due to the existence of minimum system requirements, many users have received "This PC can't run Windows" prompt, and the most common reason for this is the lack of Secure Boot or TPM 2.0. If you're experiencing issues after upgrading to Windows 11 and your device does not meet the minimum system requirements, it is better you go back to Windows 10.
Select Start > Settings > System > Recovery > Go back.
This option is only available for 10 days following your upgrade, after which time the files needed to perform this function will be removed to free up disk space on your device.
NEXT.....
How to Change the Default Browser in Windows 11