Windows 10 Home Vs. Windows 10 Pro
Microsoft Windows is a collection of proprietary graphical operating system families, meticulously developed and skillfully marketed by Microsoft Corporation. The pioneering Windows version 1.0 debuted on November 10, 1983, and since then, an impressive array of over a dozen Windows editions have been launched, culminating in the current iteration, Windows 10. Among the wide range of editions, Windows Home and Windows Professional (Pro) stand out as the most prevalent choices for home computer users.

Home Vs. Pro
The standard version of Windows 10 is Windows 10 Home edition, which caters to home users, while Windows 10 Pro serves as an extension to Home, offering additional features, functionalities, and pricing targeted towards small to medium-sized businesses. Both editions share fundamental features familiar to users from previous Windows versions, and they are compatible with desktops, laptops, and tablets, incorporating tools like Cortana and Microsoft Edge. Despite these similarities, the distinctions between Windows 10 Home and Windows 10 Pro lie in the latter's advanced features, tailored for more experienced users and businesses, which may hold less significance for the average home user.
Compare Windows 10 Home vs. Pro
| Features | Home | Pro |
| --- | --- | --- |
| Windows Hello | Yes | Yes |
| Cortana | Yes | Yes |
| Device encryption | Yes | Yes |
| Start Menu | Yes | Yes |
| Battery Saver | Yes | Yes |
| Microsoft Edge | Yes | Yes |
| Firewall and network protection | Yes | Yes |
| Microsoft Passport | Yes | Yes |
| Internet protection | Yes | Yes |
| Continuum | Yes | Yes |
| Snap Assist | Yes | Yes |
| Parental controls / protection | Yes | Yes |
| Secure Boot | Yes | Yes |
| Windows Ink | Yes | Yes |
| Windows Defender Antivirus | Yes | Yes |
| Virtual Desktop | Yes | Yes |
| Windows Update | Yes | Yes |
| Assigned Access | No | Yes |
| Domain Join | No | Yes |
| Device Guard | No | Yes |
| Enterprise Mode IE (EMIE) | No | Yes |
| BitLocker device encryption | No | Yes |
| Group Policy Management | No | Yes |
| Hyper-V | No | Yes |
| Remote Desktop | No | Yes |
| Trusted Boot | No | Yes |
| Windows Information Protection (WIP) | No | Yes |
| Windows Store for Business | No | Yes |
| Windows Update for Business | No | Yes |
| Max Supported Ram | 128 GB | 2TB |
Windows 10 Home Requirements:
1 GHz or faster compatible processor
1 GB RAM for 32-bit; 2 GB for 64-bit
Up to 20 GB available hard disk space
Video card: 800 x 600 screen resolution or higher. DirectX® 9-compatible graphics processor with WDDM driver
Internet access
Windows 10 Pro Requirements:
1 gigahertz (GHz) processor or faster
Up to 20 gigabytes (GB) of available hard disk space
1 GB of RAM for 32-bit, 2 GB for 64-bit
Required video card: 800 x 600 screen resolution or higher. DirectX® 9-compatible graphics processor with WDDM driver
Internet access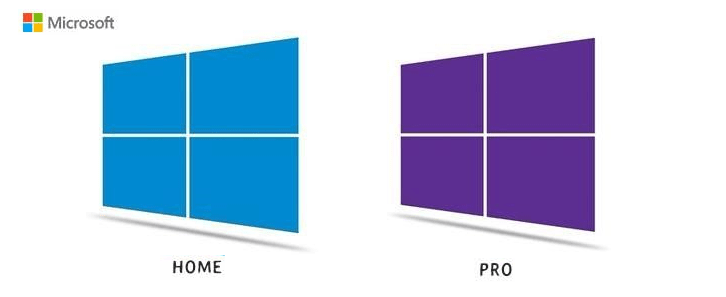 Windows 10 Versions
Windows 10 Home
Windows 10 Pro
Windows 10 Pro for Workstations
Windows 10 Pro Education
Windows 10 Enterprise
Windows 10 Enterprise LTSC (formerly LTSB)
Windows 10 Education
Windows 10 IoT Enterprise
Windows 10 IoT Core
Windows 10 S (now an operational mode within Enterprise and Education)