Access Modifiers

Access Modifiers (Access Specifiers) describes as the scope of accessibility of an Object and its members. We can control the scope of the member object of a class using access specifiers. The following five accessibility levels can be specified using the access modifiers:
public, private , protected , internal and protected internal
public: Access level is not restricted.
protected: Access level is limited to the containing class or types derived from the containing class.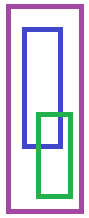 Internal: Access level is limited to the current assembly.

protected internal: Access level is limited to the current assembly or types derived from the containing class.

private: Access level is limited to the containing type.

If no modifier is specified, the method is given private access.

You can see here more details about... Access Specifiers