Manage warnings about unsafe sites
Google Safe Browsing services has created this warning message in order to protect its users from browsing unsafe online content. This message usually means that your website is hacked and Google has marked it insecure. These sites are often called phishing or malware sites. It informs about potentially dangerous content on the website you are trying to access and prevents you from entering it. This message is legitimate, however, there are cases when users encounter this warning without any real reason.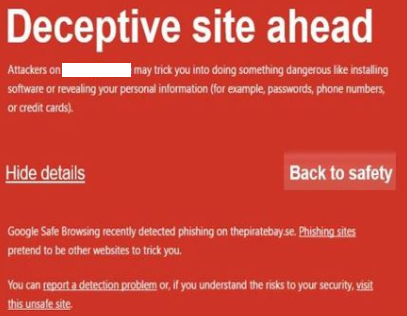 In the majority of the cases, getting these errors is due to the website being hacked . The hack itself might range from being a simple infection to highly sophisticated and hazardous. According to Google: " Phishing and malware detection is turned on by default. When it's turned on, you might see the following messages. If you see one of these messages, we recommend that you don't visit the particular web-site".
Deceptive site ahead: The site you're trying to visit might be a phishing site.


The site ahead contains malware: The site you're trying to visit might try to install bad software, called malware, on your computer.


The site ahead contains harmful programs: The site you're trying to visit might try to trick you into installing programs that cause problems when you're browsing online.


This page is trying to load scripts from unauthenticated sources: The site you're visiting is not secure.


Internet sites especially social networking are marked as potentially dangerous because they can misguide people to install suspicious software or disclose sensitive information because the users most of the time fail to decide between the genuine or fake site. Google explains that deceptive websites may trick you into doing something dangerous like installing software or revealing your personal information (for example, passwords, phone numbers, or credit cards).
How to Fix "Deceptive Site Ahead" issue?
This message is legitimate, however, there are cases when users encounter this warning without any real reason. In many cases, it's not infected. This is merely a warning that it is better to keep away from the website you were attempting to visit. There is, however, an option allowing users to bypass this warning and enter the site. Even though it is not advisable to remove Deceptive Site Ahead filter from your browser, you can do that by following these simple steps:
Start Google Chrome.


Click Menu or More icon in the upper-right corner.


Select Settings and Show advanced settings.


Go to Privacy and deselect Protect you and your device from dangerous sites.


If you follow these instructions, your browser should not display such warning messages anymore. However, you will have to protect your computer from the cyber threats by some other means.
How to avoid "Deceptive Site Ahead" messages?
The adware behind the fake Deceptive Site Ahead alerts is not an ingenious virus. It cannot install itself. No, it needs your approval to enter. So, it uses a lot of trickery to gain your permission. It usually hitches a ride with other software. So, pay close attention when browsing the Internet, and when downloading/installing software. Most intrusive ads look legitimate , however, they are distinguishable, since most lead to gambling survey, adult dating, and other dubious sites. If you encounter such redirects, uninstall all suspicious applications and browser plug-ins.
Web-Site owners:
If you own a site marked as dangerous or deceptive, it might be experiencing the error is low-quality ads from dubious sources. These ads might contain harmful code or may link to pages that can infect the client's system. Removing malware and recovering a website can become a very complicated task. Sometimes even when you clean your site thoroughly, the malicious code can keep coming back until you find and remove the backdoor placed on your site. The webmaster of the flagged website has to visit a special Google support page which offers a guide explaining how fix the issue causing the warning to appear. Then, the potentially deceptive content of the site has to be indicated. It can be done via Google Webmaster Tools .
NEXT.....
What is Cryptocurrency?