Download YouTube Videos
Downloading a YouTube video to your personal devices is actually pretty easy task. It is something we know that a lot of ordinary users are looking to find out how to do so that they can watch YouTube videos offline when there's no access to an internet connection. There are many different applications available for downloading and converting YouTube videos. The following is a few simple step process to download any YouTube video. If your network provider block YouTube, following steps may not work.
First, go to the www.youtube.com and search the page containing the video you want to download. When you've found the page, select the text from the address bar and copy the internet address.

You can also copy the address by press Ctrl + L on your keyboard to highlight the text in the address bar, and then Ctrl + C to copy the Internet address.
Once this address has been copied, paste that URL into the text field below by clicking inside the box and pressing Ctrl + V on your keyboard. Then, click the Download Video button.
Please wait.......It will take few seconds to load the downloader............ If the above steps completed successfully, a new window will appear displaying a preview of the selected video, along with a green Download button and the video format. The default format for downloading the video is the MP4 360p format.

If you want to change the file format, click on the "MP4 360p" format option, a drop-down list will appear. Click on the More option in that drop-down list to see additional video formats, such as WebM 3GP, and Audio MP4 etc. Select the video format you want and click the green Download button.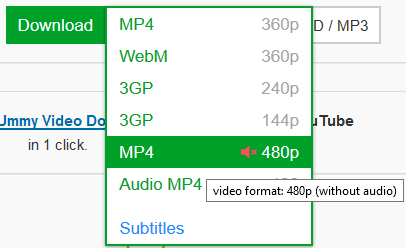 If you complete the above steps successfully, the downloaded video file will be available in your downloads folder.