ERR_CONNECTION_TIMED_OUT
Err_Connection_Timed_Out error means that your web-server request take too much time and so your internet browser timed-out the current connection. When a request is sent to the web-server , and it does not respond within 30 seconds, then the browser terminates the communication attempt. Also, the we-browser return an error : "ERR_CONNECTION_TIMED_OUT", indicating there is a communication problem.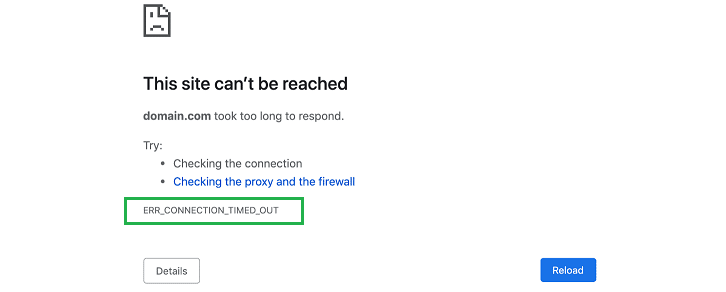 This is not a problem with your web-browser, but usually it means that there are problems at the client side, such as internet connection issues or an issue with the server where your WordPress site is hosted. This error, or similar, can occur not only with Google Chrome browser , but also, with other web browsers. Rebooting your modem or router generally solves this issue and then you can connect to the website.
In Mozilla Firefox the error will show as "The connection has timed out".
In Safari, the error will show as "Safari Can't Open the Page".
Unfortunately, the "ERR_CONNECTION_TIMED_OUT" itself does not give you any explanation as to what is the cause, all you can do is try different solutions and hope that one of them will work. Try the following simple solutions in the order in which they are listed.
Clear Browser Cache
Check your Security programs
Restart your router
Disable Proxy Settings
Check your Windows Hosts File
Flush/Renew DNS
Check with your ISP
Clear Browser Cache
Google Chrome browser will often save your browsing data such as cookies, browser history etc. These stored data can often stand in the way of smooth communication with the target server . In some cases it will slow down your browser and browsing experience, and even cause problems such as the "ERR_CONNECTION_TIMED_OUT" error. Clearing these browser data at regular intervals, you can correct these problems and prevent them in the future.
Check your Security programs
Security programs like Firewall and Antivirus Software sometimes blocks certain websites due to security concerns, which results in these kind of errors. So, it is better to temporarily disable your security programs and check to see if the problem will go away or not.
Restart your router
Unplug your router's power cord . Wait 60 seconds before you replug it. Check if the error has cleared.
Disable Proxy Settings
Proxy Servers allow you to go online while keeping your IP address secret, and filtering communication between client and servers. Sometimes, web servers might reject the request from proxy server because of faulty configurations or errors and leading to this type of error. This is why it's worth disabling the proxy temporarily and check your website again.
Check your Windows Hosts File
Every computer has a local hosts file , which stores the DNS entries mapped to specific IP addresses. If there is an IP address and website URL added to block in the Windows host file, this might cause some websites to get blocked as well. Therefore, you should check the Windows Hosts File in your computer.
Find the following location on your computer: C:\\Windows\System32\drivers\etc. Drag the hosts file to a Notepad. Check that the particular website you are trying to open is not listed in the file. If it is there, go ahead and delete the entry , then save the file.
Flush/Renew DNS
This method resets the IP address configurations of your computer. It is possible that the website you are trying to reach has changed. By clearing the stored data from your operating system you might be able to fix this error.
Open the command prompt window, type the following commands and press Enter after each one.

ipconfig /flushdns
ipconfig /registered
ipconfig /release
ipconfig /renew
netsh Winsock reset

When it's done, close the command prompt window and Restart your PC .
Check with your ISP
In some cases, your ISP (Internet Service Provider) blocks certain websites. Therefore you should inquire as to whether the website you are browsing is being black listed by the ISP or if there is a connection problem.
If you have tried all of the above methods and still the error persists, simply switch to another web-browser and check if you are able to visit websites.
NEXT.....
What is localhost:8080?