What is GTmetrix?
Speed is very important for SEO and if your website speed is very slow, users may quit your website and the bounce rate will be increased. So you have to think about on How To Improve Your Website Speed . There are many free tools available in the market to check your website speed. GTMetrix is one of the tools that using to get detailed reports about a website's performance. Of course, it uses a combination of Google PageSpeed Insights and YSlow to generate scores and recommendations, therefore your results should be precise.

GTmetrix is built by the people of GT.net , a hosting company based in Vancouver, Canada. This tool is really helpful in SEO and also for developers. You can get an idea of what is wrong with the website and easily improve the website with the help of GTMatrix . It goes into great detail as it checks both Google PageSpeed and YSlow metrics, assigning your site a grade from F to A . GTMatrix's reports are divided into five different sections including PageSpeed, YSlow, waterfall breakdown, video, and history. A good PageSpeed or YSlow score means that your page is optimized for the browser to render as fast as possible. However, the scores it gives are not 100% accurate. Your internet connection can be bad at present or a lot of visitors visiting your website - the tool will give you a lower score than usual.
How to use GTMetrix ?
To run a GTMetrix performance report for your website, follow these steps:
Use your browser to go to https://gtmetrix.com.
In the text box, type the URL for your web site:

Click "Test your site". GTMetrix analyzes your site.
It is important to note that the duration of time to complete the analysis depends on how busy the GTMetrix website is at the moment, as well as your own site's speed. The entire analysis process can take several seconds up to a minute.
After GTMetrix completes the analysis of your website, it displays a performance report for your site.

The page details are the most important and immediate info you can have on your website performance:
Fully Loaded Time
The length of time required for your page to become interactive in the test browser , expressed in seconds.
Total Page Size
The total amount of data downloaded to the test server, in MB, including all media assets such as images.
Requests
This the number of individual HTTP requests generated by your site via scripts, CSS, etc.
GTMetrix's reports are divided into five different sections including PageSpeed, YSlow, waterfall breakdown, video, and history.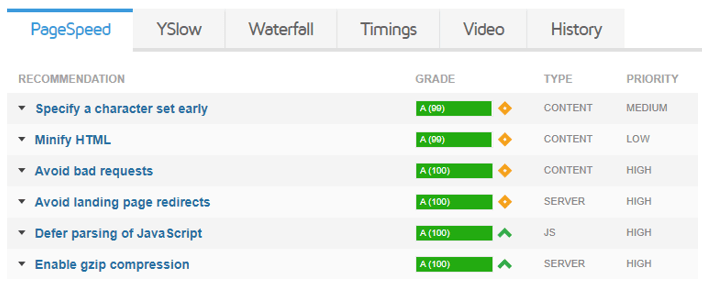 The individual tabs under the performance summary area in the gtmatrix results , are where you can see what specific areas your website is performing well, or poorly, in.
Pagespeed
Pagespeed shows the most basic information and the lowest hanging fruit for making your site load faster. Recommendations ranked with a grade, using a lettering system, where A to F (best to poor). Under the Type columns, it shows what sort of content or area the recommendations refer to(Content, Server, js etc.) , and in the last column, Priority , it gives an indication of the individual issue's importance in the overall result(High, Low and Medium).

Using the small arrow on the left hand size of each recommendation , you can expand the section.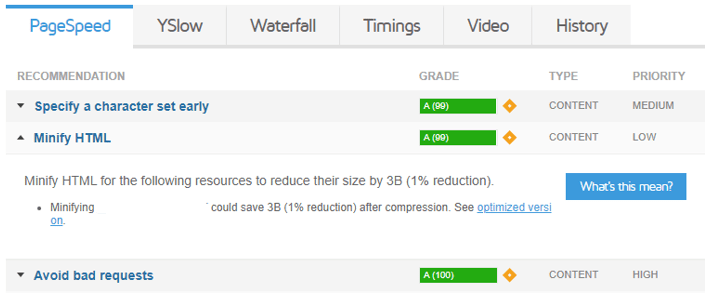 YSlow
YSlow is the next category of results. Similar to previous tab ( pagespeed ) YSlow test represents the key areas why your website is slow. This tab offers suggestions for enhancing your page's performance and provides you detailed statistics related to the page in addition to summarizing the various page components.

Waterfall
This is a chart of every single request made by your site, including media files, JavaScript , CSS, etc. It displays the request-by-request loading behaviour of your website. Every script, media file, and/or third-party resource your page requests is displayed here.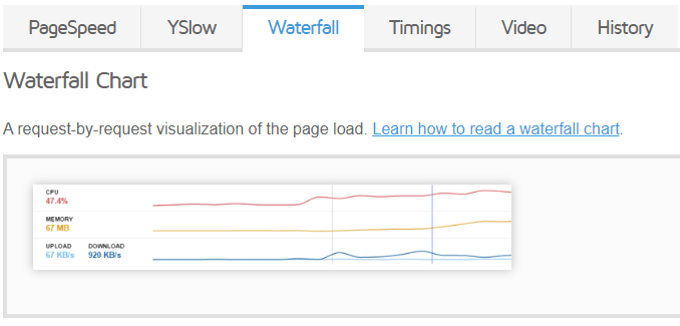 Timings
The timings tab displays some advanced results, these events include:
Redirect duration
Connect duration
Backend duration
Time to First Byte (TTFB)
First paint time
DOM interactive time
DOM content loaded time (and JavaScript event duration)
Onload time (and JavaScript event duration)
RUM Speed Index
GTmatrix unique timeline visualization gives you the event occurrences in order so you can see at a glance where they happen. Events are in order, however they are not to scale. This is due to webpages potentially having massive or negligible differences between events.
Video
The video option is another feature open to registered users only, but it's pretty neat. It shows you a video breakdown of your website loading , indicating the key milestones analyzed in the Timings tab.
History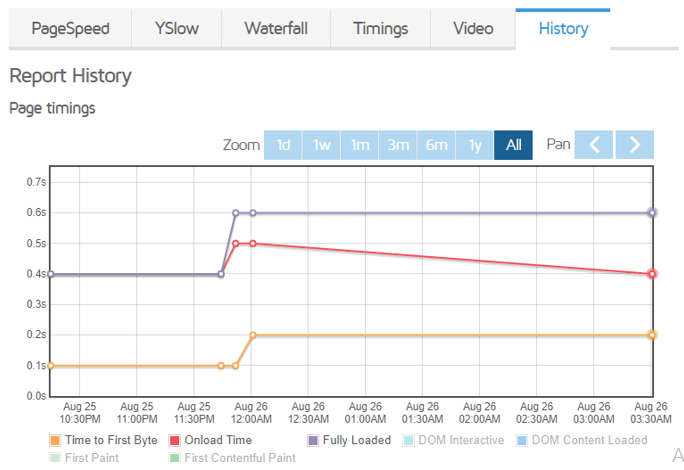 GTmatrix History tab contains all of the graphs that were previously under the "Performance History" tab, also added tool tips to the nodes that allow you to:
View the highlighted report (if you're not already viewing it)
Compare the highlighted report to the currently viewed report
Delete the highlighted report
This provides our users with a more visual way of keeping track of past reports.
WRAPPING UP..
This tool is a gem for those who are looking to optimize their sites. Instead of downloading the YSlow extension, or going to Google Webmaster Tools to get Google Page Speed score, you can simply do it all through GTMetrix.
NEXT.....
What is System Thread Exception Not Handled Error?