Android phone as a Wi-Fi hotspot
What is Wi-Fi ?
Wi-Fi is an abbreviated term of "wireless fidelity". It is often just known as Wi-Fi - is a way of getting broadband internet without wires. A Wi-Fi connection is established using a wireless adapter to create hotspots - areas in the vicinity of a wireless router that are connected to the network and allow users to access internet services. It is important to note that Wi-Fi is less secure than wired connections, such as Ethernet, precisely because an intruder does not need a physical connection.
What are Hotspots ?
The term hotspot is used to define an area where Wi-Fi access is available. In order to access hotspots, your computer should include a wireless adapter. Your wireless-equipped laptop or other device, such as an iPod or smartphone, will typically notify you when it is in the range of available wireless networks.
How to use your Android phone as a Wi-Fi hotspot
It is possible to use your smartphone as a portable Wi-Fi hotspot, and share its data connection with your Wi-Fi-only tablet or a laptop. Using the portable Wi-Fi hotspot feature, you don't need to have the app installed on your computer or other devices and you get simultaneous Wi-Fi internet access for several devices. This setting process is called tethering or internet sharing, and most smartphones provide this feature, including Android , iPhones, Windows Phones etc. The following steps guide you to how to use your Android hostsopt feature for sharing internet connection. The process is similar most for older Android smartphones.
Step 1: Go to Settings Menu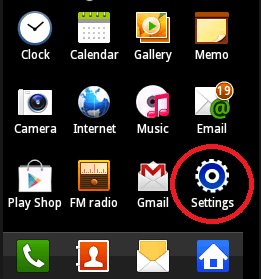 Step 2: Select the Settings menu from your Android Phone device. It should look something like the following screen and press More...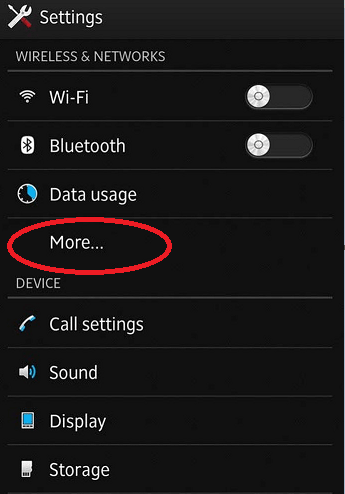 Step 3: Then you get Select Wireless & Networks and then press Tethering & portable hotspot.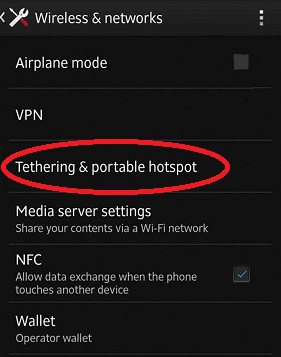 Step 4: Now you get Tethering & portable hotspot, then Tick the box next to Portable Wi-Fi hotspot or drag the right-side switch on.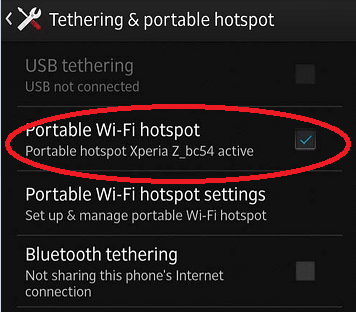 Step 4: Press Portable Wi-Fi hotspot settings and you can edit the Wi-Fi network name, and choose a password. In some cases select the "Set up Wi-Fi hotpot "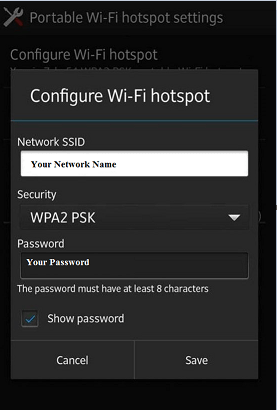 After setup your username and password, press Save button. Now the configuration from your android phone is over and it is ready to share the internet connection. The next step is to select the Wi-Fi connection from your PC or laptop, select your handset's network name from the list of Wi-Fi connections available Click connect and then you'll need to enter the password for the Wi-Fi hotspot. Thats all...
NEXT.....
Redirecting Web Pages