This site can't be reached Error
Encountering the "This site can't be reached" error in the Chrome browser is a common occurrence while browsing websites. Many users may come across this error without knowing the appropriate resolution steps. Several factors can lead to the appearance of this error in Chrome browsers, resulting in a disruption of website access for users.
The "This site can't be reached" error commonly occurs due to issues with DNS lookup, where the network address translation for the website name to its internet address fails. This error can be attributed to various factors, such as a lack of internet connection, misconfigured internet or network settings, or firewall restrictions preventing Google Chrome from loading the webpage. When encountering this error, users may receive an associated error code, indicating the specific nature of the problem. Troubleshooting these issues and resolving the underlying causes can help restore access to the desired websites in the Chrome browser.
DNS_PROBE_FINISHED_NXDOMAIN
Or
ERR_CONNECTION_TIMED_OUT
The "This site can't be reached" error message can occur on various operating systems, including Windows 8, Windows 10, Linux, Chrome OS, and Android devices. Regardless of the underlying cause, it is crucial to find a permanent solution to resolve this issue. Here are some potential solutions that aim to minimize or eliminate the error, ensuring smooth access to desired websites in the Chrome browser. By implementing these solutions, users can address the problem effectively and enjoy uninterrupted browsing experiences.
Clear browser cache, history and cookies
Reset Chrome browser settings
Reset Wi-Fi Modem
Restart DNS client
Change IPv4 DNS Address
Disable "Experimental QUIC protocol" flag
Changing maximum allowed TLS version
Reset the Chrome profile Sync
Remove browser extension from Chrome
Reset TCP/IP
Scan your device for malware
Reinstall Chrome
Install another web browser
Clear browser cache, history and cookies

Open Chrome browser.
At the top right, click More icon.
Click "More tools" -> Clear browsing data .
At the top, choose a time range. To delete everything, select All time.
Next to "Cookies and other site data" and "Cached images and files," check the boxes.
Click Clear data.
Reset Chrome settings
Chrome browser provides users with the option to reset their browser settings effortlessly with a single click. By opting for this reset, all configuration data within Chrome, including the home page, tab settings, saved form information, browsing history, and cookies, will be erased. This feature can be useful in cases where users encounter issues with their browser or wish to start afresh with default settings. However, users must exercise caution as this action will result in the loss of personalized preferences and data stored within the browser.

Open Chrome browser.
At the top right, click More icon.
Select Settings from menu option.
At the bottom, click Advanced.
Under Reset and cleanup click Reset Settings and then Reset Settings.
Reset Wi-Fi Modem
You can easily reset your wi-fi modem manually. If you have a separate router, you should reset it as well.

Unplug the power cord from the WiFi router.
Press and hold the reset button 10 to 15 seconds.
Release the reset button after the lights on the modem start flickering.
Wait 3 to 5 minutes for the Internet light to turn green.
Try connecting to the Internet.
You may be asked for account related information to reset your modem.
Restart DNS client
Click the Windows "Start" button and select "Run."
Enter "cmd" into the text box and press "Enter."
This starts your Windows command prompt.
Type net stop dnscache to stop the service.
It may take a few seconds for the DNS service to stop.
Type net start dnscache to the command prompt and "Enter."
This restarts the DNS service on the machine.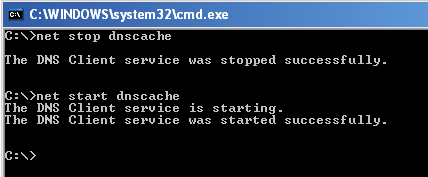 To reset the DNS cache and remove all entries from it, run the following command: ipconfig /flushdns.
If everything went well, the result should be "Successfully flushed the DNS Resolver Cache".

Change IPv4 DNS Address
Open Control Panel.
Click View network status and tasks.
Click Change adapter settings on the left portion of the Window.
Double-click the icon for the Internet connection you're using.
Click and highlight Internet Protocol Version 4 (TCP/IPv4) and click Properties.
Enter the new DNS addresses.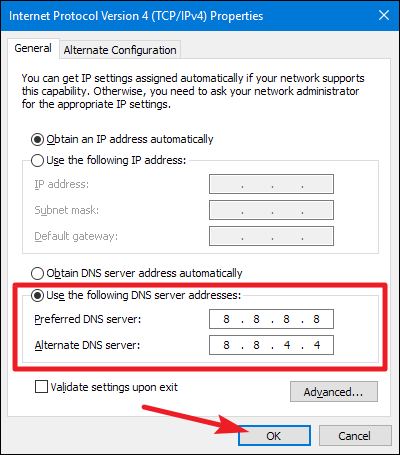 Enter this Google public DNS server address:
Prefered DNS Server: 8.8.8.8
Alternate DNS Server: 8.8.4.4
Tick on Validate settings upon exit. Then click OK.
Disable "Experimental QUIC protocol" flag
The QUIC protocol aims to offer improved transport performance compared to TCP for internet connections. QUIC utilizes UDP ports 80 and 443 and, in some cases, allows clients to bypass transparent proxies, potentially causing issues with certain UTM (Unified Threat Management) features, such as web filtering, specifically on Google Chrome. Other browsers like Internet Explorer or Mozilla Firefox may not encounter these issues. To disable the QUIC protocol in the Google Chrome internet browser, follow these steps:

Open chrome and type chrome://flags/ in the address bar.
Search the Experimental QUIC protocol.
Change "Default" to "Disabled" option from the drop-down menu.
Restart Google Chrome for your changes to take effect.
Changing maximum allowed TLS version
One potential cause of the issue is the utilization of an outdated TLS version on the web server. Transport Layer Security (TLS) is a cryptographic protocol employed to ensure secure communication across computer networks. The latest widely used version is TLS 1.2, while TLS 1.3 has been released as a final version and offers enhanced security features. Therefore, if the web server is using an older TLS version, it may result in compatibility problems and potentially trigger the error in the browser. Updating the TLS version on the web server to the latest stable release (TLS 1.2 or TLS 1.3) is recommended to ensure secure and error-free communication with modern browsers.

Open chrome and type chrome://flags/ in the address bar.
Search Maximum TLS version enabled.
Select the version 1.3 which is set to Default before.
Restart Google Chrome for your changes to take effect.
Reset the Google Chrome Profile Sync
Google offers a site that displays every item category you have in sync with Chrome. It is important to clean this synchronized cache.
On your computer, open Chrome.
Go to the Google Dashboard.
At the bottom, click Reset sync.
Confirm by clicking OK.
Turn sync on again.
Remove Browser Extension from Chrome
All Internet browsers allow for the use of extensions, which are small programs that extend the functionality of a browser. Some browser extensions are known to interrupt network connections.

Open Chrome browser.
At the top right, click More icon.
Select More tools from the menu.
Select Extensions from the side menu.
Drag the blue slider to disable the extension one by one.
Confirm if a browser extension is responsible for the particular error and remove it.
Reset TCP/IP
Type "cmd" in the search box, then right-click on CommandPrompt to select "Run as Admintrator". Depending on your computer settings, you may be asked to provide an administrator password before you can continue.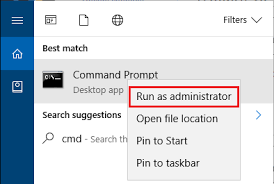 At the command Prompt Type netsh int ip reset and then hit the Enter key on your keyboard.
Wait for the Command Prompt to run through the TCP/IP reset.
Reboot your computer and go to the website again to see if it works.
Reinstall Network Adapter Drivers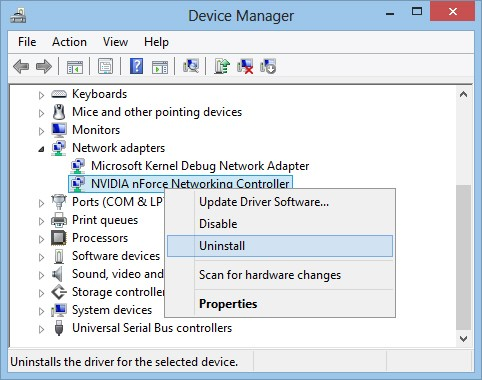 Go to the icon of 'My Computer' and right click to select Manage.
There click on Device Manager that will bring you a list of all the hardware installed.
Now look for the Network adapters and expand it.
Right-click the network connection you are using and select Uninstall.
Restart your PC, and the drivers will get installed automatically, then try open website again.
Scan your device for Malware
It appears that the computer you are currently utilizing might have been compromised by malware, which is evidently disrupting your network connections. For instance, certain forms of malicious software are designed to clandestinely establish a proxy server, surreptitiously capturing and redirecting internet traffic through said server to execute their nefarious activities. Consequently, such malevolent software is often the root cause behind the recurring "This site can't be reached" error in the Chrome browser. It is imperative to take immediate action and address this security concern to safeguard your system and ensure uninterrupted internet access.
Reinstall Chrome
Go to Control Panel and click Uninstall a program and uninstall Google Chrome from your PC.


Navigate to C:\Users\%your_name%\AppData\Local\Google\ and delete everything inside this folder.


Download the latest version of Chrome Browser and install it.


Restart your PC, and try open website again.
Conclusion
The "This site can't be reached" error commonly occurs in the Chrome browser and indicates that the website being accessed is unavailable or experiencing connectivity issues. It could be due to various reasons, including network problems, server downtime, or malware interfering with network connections.